Wild Keeper Resource Page
TIP: Bookmark this page for later! 🙌
Our Mission as Wild Keepers
Wild Keepers are on a mission to pick up trash outside, make a positive impact on the outdoor spaces that we enjoy, have fun doing it as a part of a larger community of Wild Keepers, and inspire others to do the same.
Once you've been accepted as a Wild Keeper Ambassador, you do not need to re-apply for any upcoming terms as long as you follow all requirements (review the requirements  here).
If being an ambassador no longer suits you, no problem! Just direct message a mentor or Bri in Slack.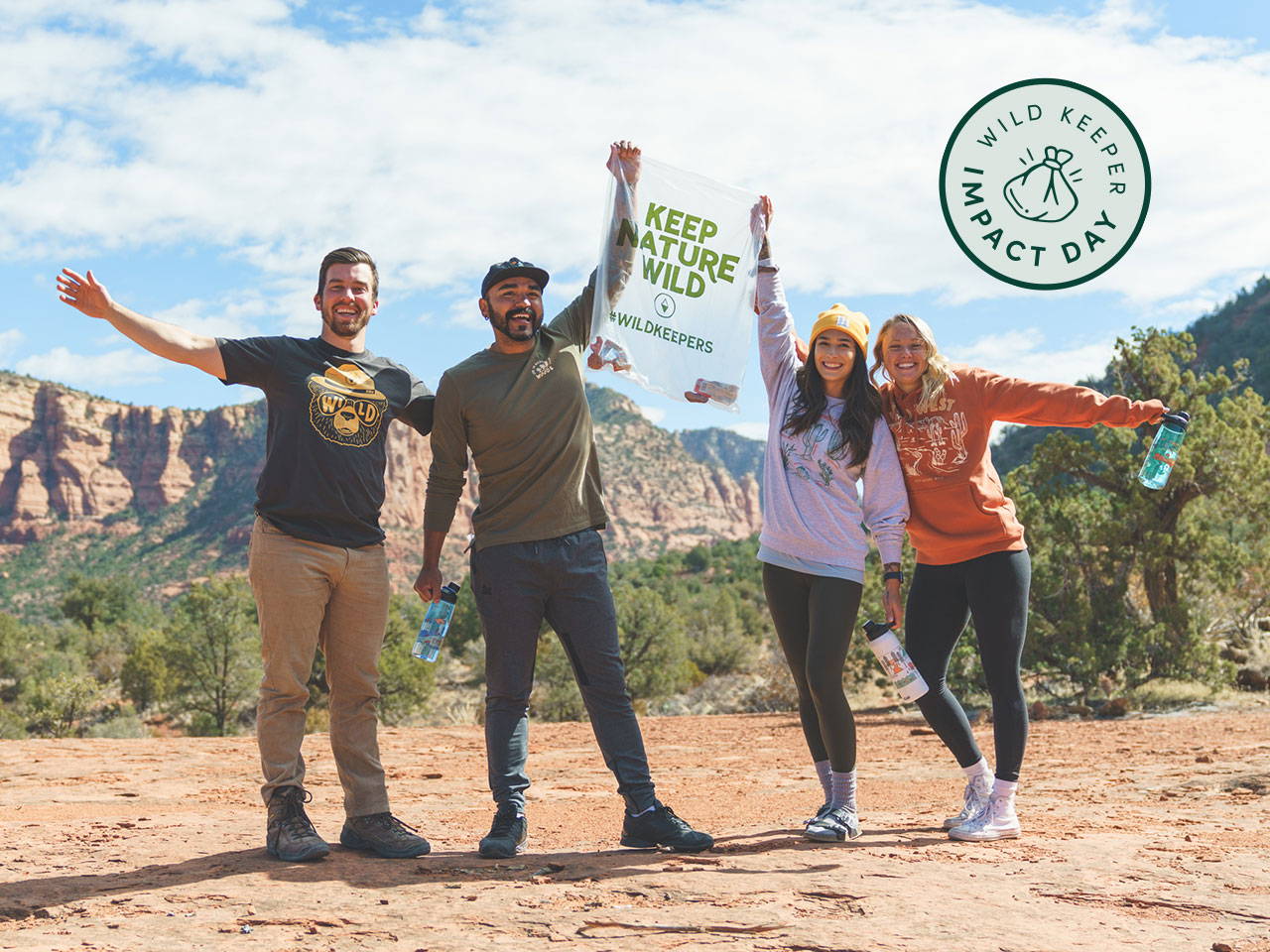 Impact Days are once a month.
On these days, Wild Keeper Ambassadors flood Instagram with the positive impact you've been making throughout the past month.
Each Impact Day, there are (optional) Impact Day Themes to get your creative juices flowing (check them out below!) and Impact Day Giveaways as a special thank you for all the hard work you put in to help keep nature wild.
You don't have to pickup trash on Impact Day
you just need to post your impact photo on Impact Day!
Check out our exclusive Wild Keeper Ambassador apparel, patches, stickers, and more!
Check out our exclusive Wild Keeper Ambassador Tee, patches, stickers, and more!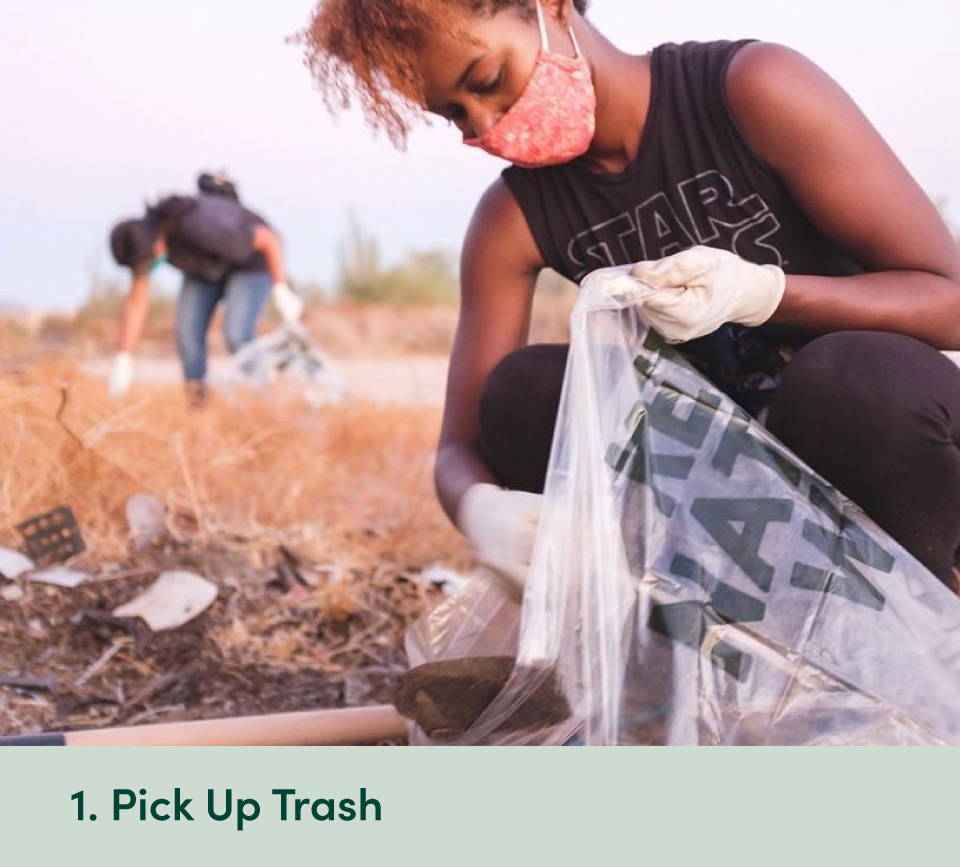 Pick up trash at any point before or on Impact Day (at a park, neighborhood, trail, urban area, anywhere!)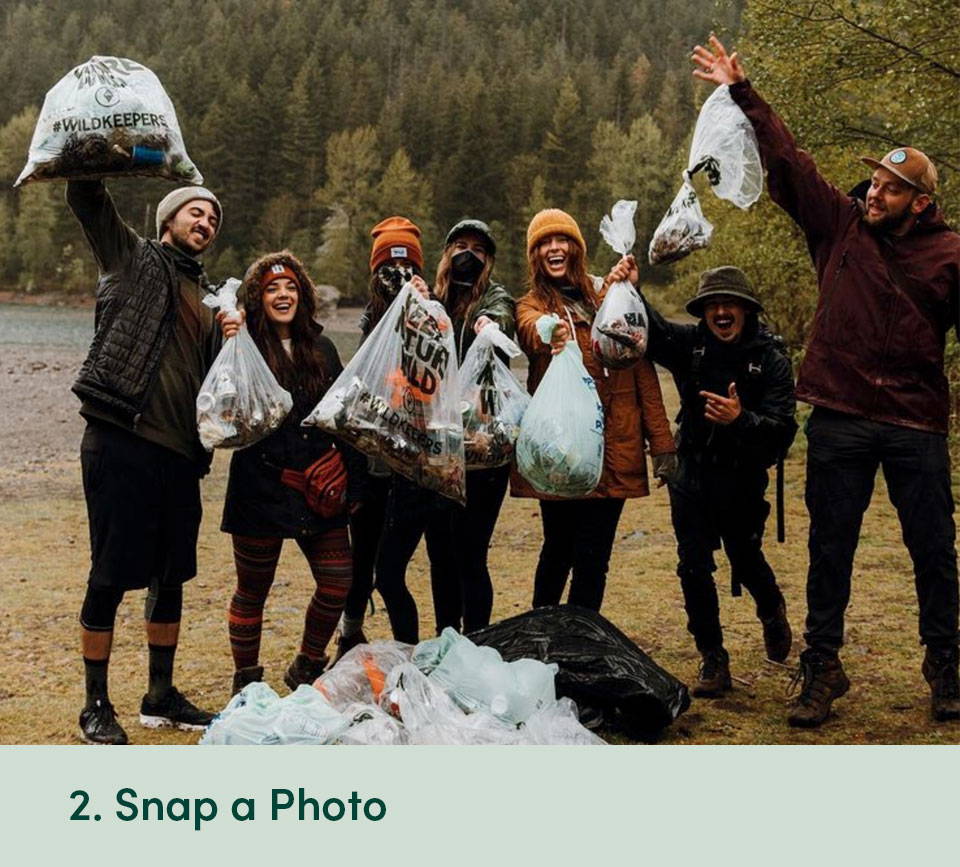 Snap a fun photo of you and your trash haul to save and post on Impact Day!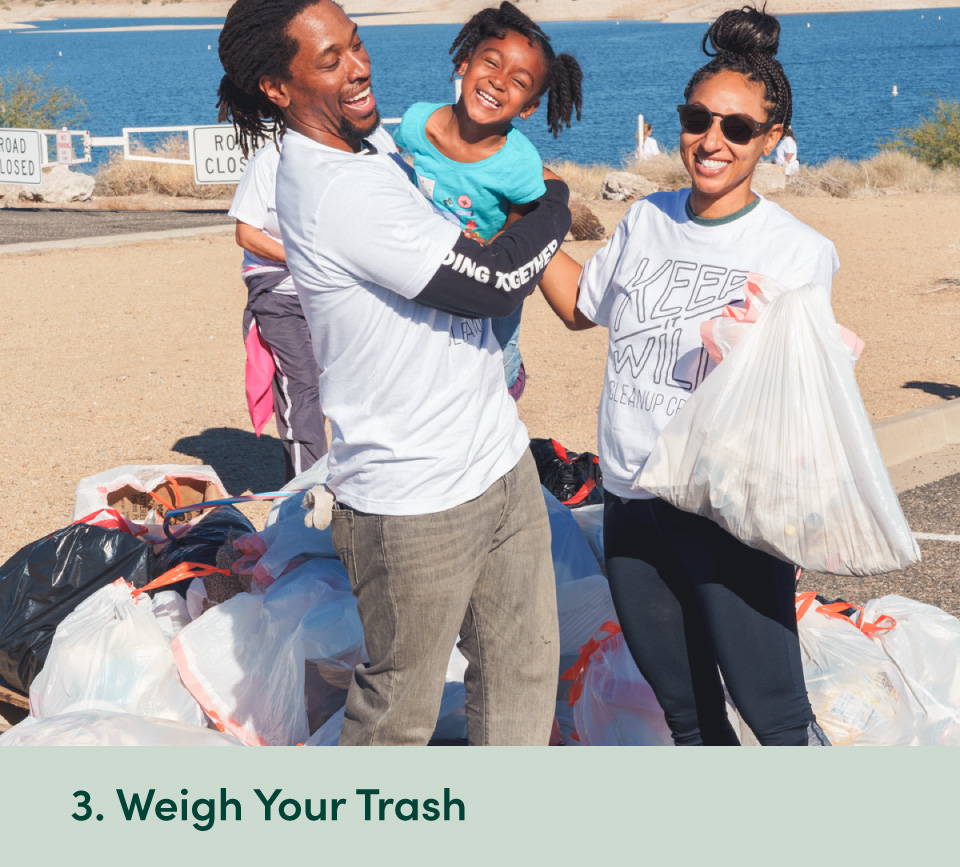 You can do this precisely with an scale or guesstimate your weight. A KNW trash bag weighs between 5-15 lbs depending on micro trash or regular, bulky trash!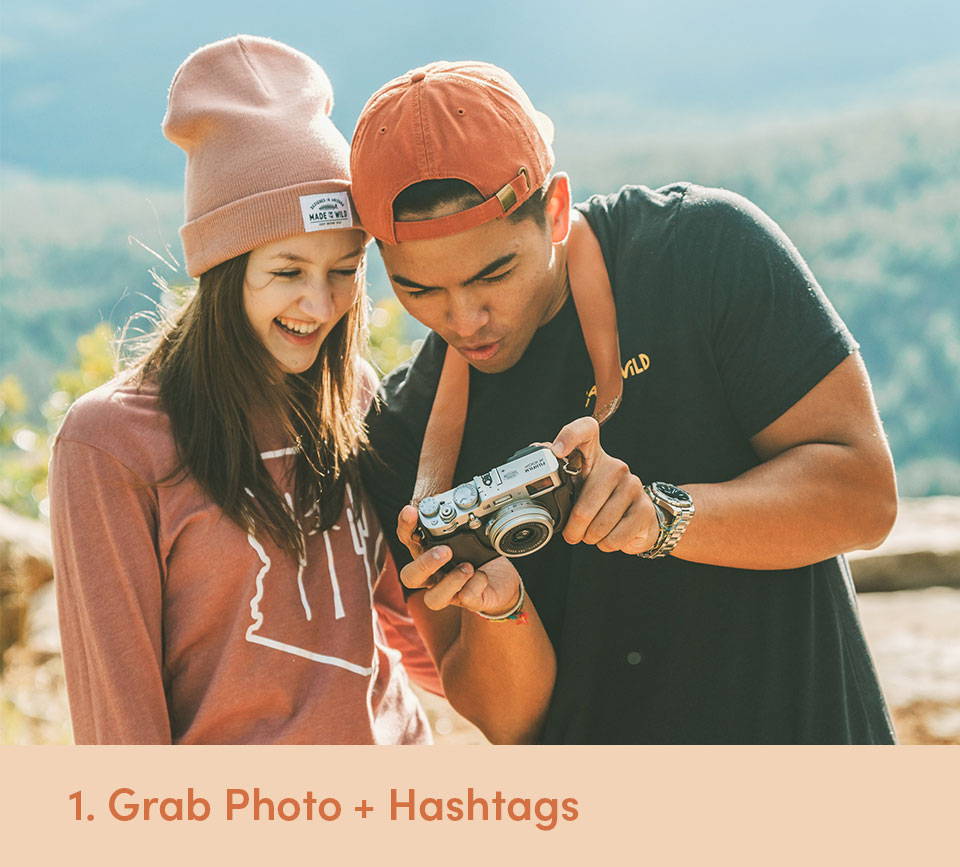 Grab your super-cute Impact Day photo from your cleanup! Always include these hashtags in your post: #impactday + #keepnaturewild + #wildkeepers so we can help celebrate your impact!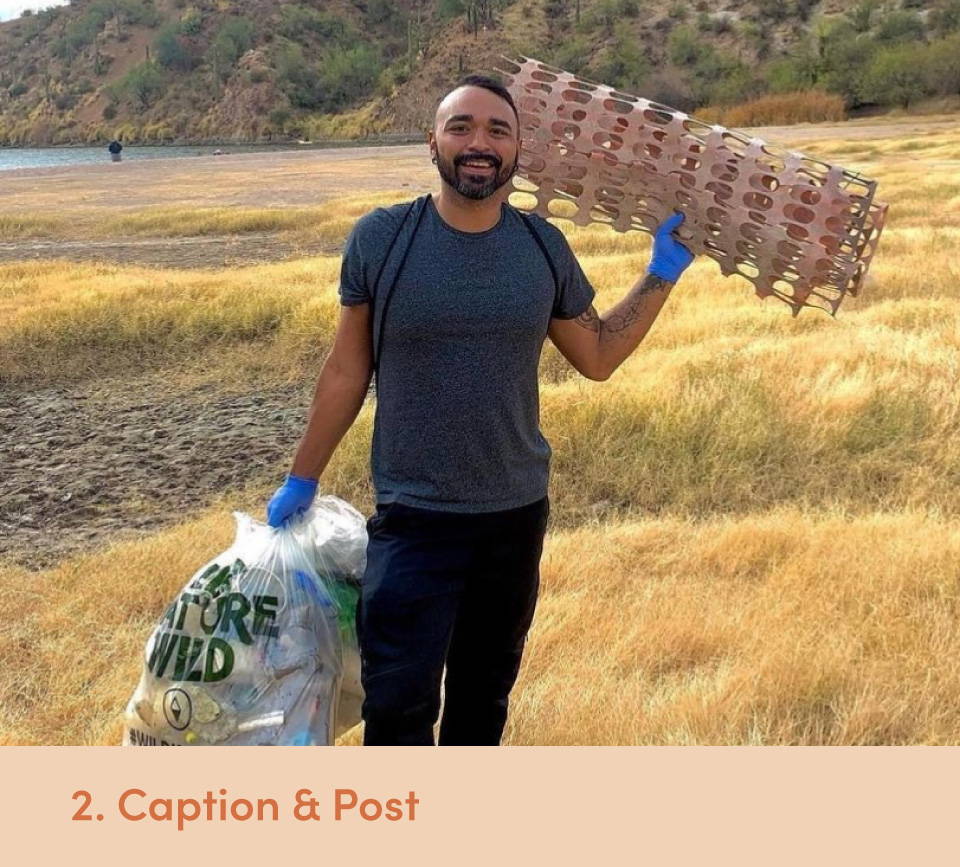 Use the caption to talk about why it's important to Keep Nature Wild! For inspo, check out the Wild Keeper Social Media Kit or use the monthly Impact Day theme below!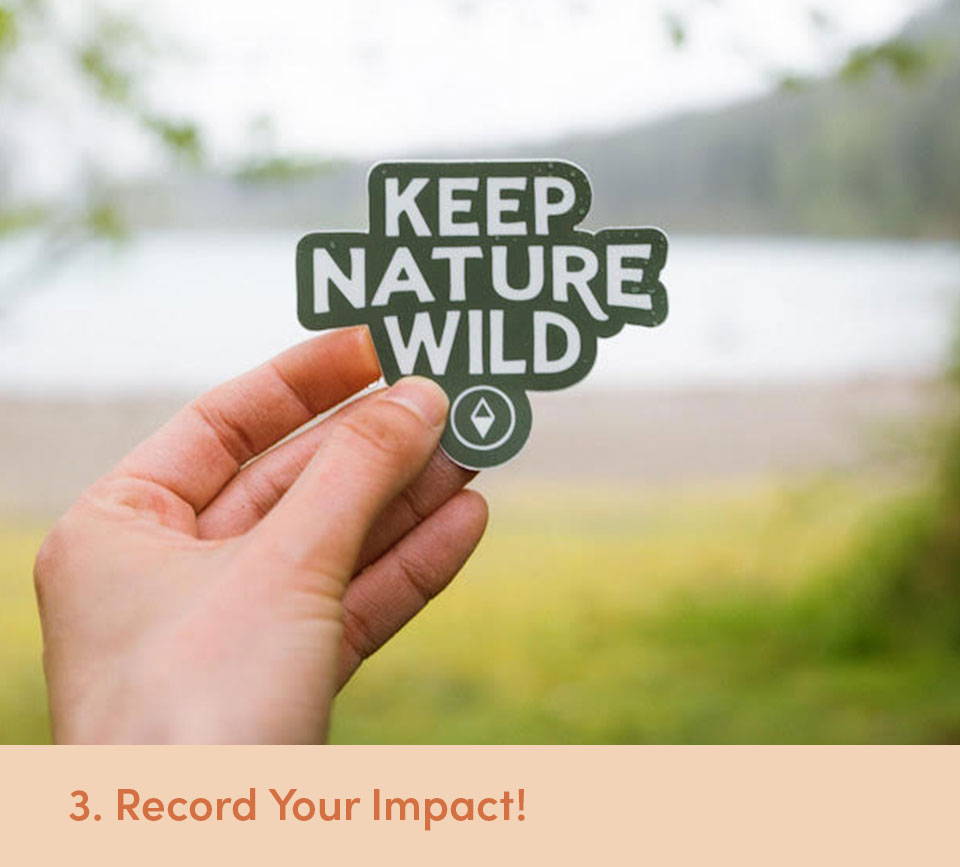 IMPORTANT: Record your impact on the Impact Form—this is the only way we know how much trash you actually picked up!
#Impactday Dates + Themes
#1: June 30th // Celebrate Sustainably! 
This month, let's focus on skipping the single-use supplies for holiday celebrations! Opt instead for reusable or compostable supplies. We'll also learn about how so much trash ends up in waterways after holiday weekends and what we can do to limit this from happening in our areas!
#2: July 29th // Water Connects Us All
Calling all fishermen, kayakers, canoers, beach-goers, lakeside chillers, paddleboarders, and anyone spending time near the water this summer:

Enjoy the water, and remember to leave nothing but footprints on your vacations and day trips to the water!
#3: August 25th // World Water Week
This month, we'll be asking ourselves questions like this:
1) What do you appreciate about your access to clean water?
2) Where do your water resources come from in your area?
3) How long does it take for litter to break down in water?
4) Which local waterway can you go pick trash out of?
#4: September 30th // National Cleanup Day!!
Grab your gloves, litter pickers, bags, and buckets! It's time to go cleanup the planet!
In September, we'll be rallying together for National Cleanup Day and making a huge difference in our local wild spaces. Stay tuned for rad opportunities to get involved with other like-minded nature-lovers.
Winners selected from Impact Form entries each month!
#1: June 30th
$50 KNW Gift Card


#2: July 29th
$50 KNW Gift Card
 
#3: August 26th
$50 KNW Gift Card
#4: September 30th
$50 KNW Gift Card
We're back! We are currently hosting group cleanups in AZ and a few other states at least once a month! Sign ups are limited to 50 each. To see all currently scheduled cleanups, head here. 
This page's goal is to be a one-stop-shop to give you ideas, provide you with assets, or give you some inspiration on how you can talk about being a Wild Keeper Ambassador on social media. The kit includes:

• Example Impact Day posts
• Reading / Resources
• Graphics—Icons, Posts & Story Assets
The role of a Mentor is to be there to answer any questions that Wild Keeper Ambassadors may have. Wild Keeper Mentors have been in the program for multiple terms and know the ins and outs of being a Wild Keeper - they're here for ya! Mentors also help the KNW team to monitor the different channels within Slack.
To contact a Mentor, reach out in the "#help-ask-a-mentor" channel and one of our many helpful Mentors will get back to you!


Want to become a mentor?
Please shoot a direct message to "Bri at KNW" in Slack!
Read these guidelines before heading out to pick up trash and keep them in the back of your mind!

You are most important.

 

Look out for yourself and your safety first!

Trash is dirty obv - try not to handle it with bare hands! Make sure you are wearing gloves or using a picker.

When picking up items that could be rusty or sharp, use caution and wear heavy-duty work gloves.

Remember, you do not have to pick up anything you do not want to! Don't lift heavy objects alone and ask for help if you need it!

Don't handle hazardous materials like batteries, gas cans, needles, drug paraphernalia, or ammunition.

Make sure to not enter any private or restricted areas to pick up trash.

Please stay on designated trails and walkways and never pick up trash in areas that may put you in harms way.

Please don't enter any bodies of water while picking up trash.


Your safety matters to us! 🙌
When am I supposed to record the trash I pick up?
Whenever you pick it up! We just ask that you pick up and record your impact at least once a month. You don't have to wait until Impact Day, but you can. Your call!
Where can I dispose of the trash I pick up?
Good question… The best place to put it is in the dumpster bagged and tied up - it's not great, but it's better than having it out in the wild. If you can, separate out any recyclables you've picked up and throw them in the recycling bin (check your local recycling guidelines first, though! They're different everywhere.)
What hashtags should I use on my Impact Day posts?
Use hashtags #wildkeepers, #keepnaturewild, and #impactday on your monthly Impact Day Instagram Posts!
Do I have to pick up trash on Impact Day?
No! Pick up trash whenever works for you. We just ask that you post about the impact you are making on Impact Day.
Is there a certain amount of trash I need to pick up?
Nope! Do what you can. Some days you might pick up bags full, some days you might pick up a handful. It all adds up and it all makes a difference!
Do I have to use a Keep Nature Wild trash bag?
Definitely not. Use what you've got! If that happens to be a KNW biodegradable trash bag, that's great. If not, that's great, too. The trash is what matters!
Do I have to wear/show Keep Nature Wild products in my Impact Day posts?
You don't, the impact you're making is the #1 priority! But we do encourage it if you have some - we just love to see this community in their KNW gear :)
Wild Keeper Ambassador FAQ's
What's my ambassador discount code?
You'll find this term's Wild Keeper discount in the #knw-important-info channel in Slack!
Is there a discount code to share with friends and family?
There is! You all have a unique a discount code you can share with your friends and family to give them $10 off a $50 purchase and earn $10 for yourself for each successful referral! This perk is run through the KNW rewards program. To login or sign up + share your referral code, head here.
I loved being a WKA, do I need to reapply next term?
Nope! We want you to stick around! All Wild Keeper Ambassadors role over into the next term unless you tell us you want to opt-out.
My BFF wants to be a WKA with me so we can do cleanups together. How can I get them in?
Have them join you on your cleanups for now anyway! And then encourage them to apply when applications open again for the next term :)
Need help with KNW order? Email help@keepnaturewild.com


Have a cool idea to make the program better? Post in the #help-ask-a-mentor channel in Slack


Need direct assistance with literally anything? Direct message "Bri at KNW" in Slack